Biodiversity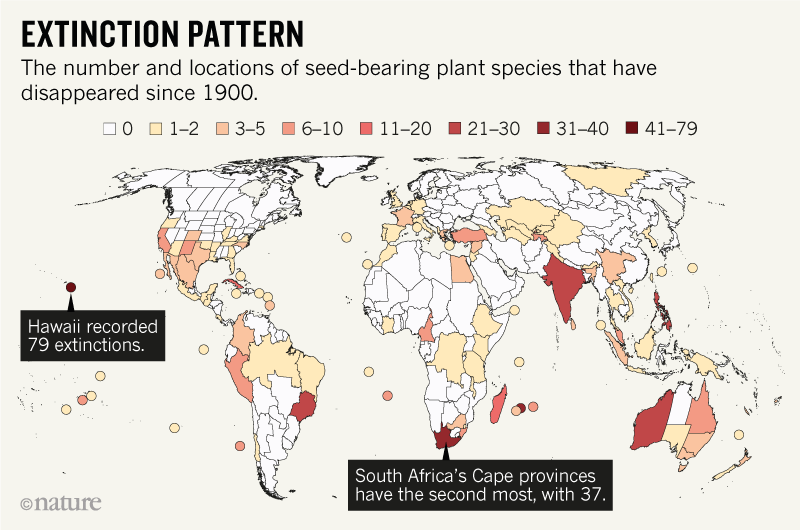 Plant Extinction Map: Heidi Ledford writes for Nature: "The researchers found that about 1,234 species had been reported extinct since the publication of Carl Linnaeus's compendium of plant species, Species Plantarum, in 1753. But more than half of those species were either rediscovered or reclassified as another living species, meaning 571 are still presumed extinct."
Source: Nature & Humphreys et al.
I
n an
article
("World's largest plant survey reveals alarming extinction rate;" June 10, 2019), for the scientific journal,
Nature
, Heidi Ledford writes:
The world's seed-bearing plants have been disappearing at a rate of nearly 3 species a year since 1900 ― which is up to 500 times higher than would be expected as a result of natural forces alone, according to the largest survey yet of plant extinctions.
The project looked at more than 330,000 species and found that plants on islands and in the tropics were the most likely to be declared extinct. Trees, shrubs and other woody perennials had the highest probability of disappearing regardless of where they were located. The results were published on 10 June in Nature Ecology & Evolution1.
The study provides valuable hard evidence that will help with conservation efforts, says Stuart Pimm, a conservation scientist at Duke University in Durham, North Carolina. The survey included more plant species by an order of magnitude than any other study, he says. "Its results are enormously significant."
I
f you care about nature and the beauty of biodiversity, this news is not good; it is in fact worrisome and shows that human activity is largely the reason why we are seeing the disappearance—to the point of extinction—of so many plant species. This is part of a larger
United Nations study
that shows up to one million plants and animals face extinction, chiefly as a result of human activity. Such knowledge, based on facts, ought to encourage governments to take measures, to enact laws that make conservation as important, or, better yet, more important than building and development.
If you would consider a personal observation, we do not require more high-rise condos or office towers in Toronto; these towers are as unsightly as unnecessary and prove the problem of overdevelopment (in addition, how boring it is to see another 50-storey tower.). Moreover, they remove, for one,
badly needed wetlands
, which are natural ecosystems and a barrier to flooding. Acknowledging this as fact will help change the mindset from development is progress to conservation is progress. It is not easy to change, but questions need to be asked.
Is it really a zero-sum game? Who benefits? Should
democracy work like economic game theory
? I for one do not think so. Real progress today is to stop this crazy unhealthy and unsustainable level of development, which benefits only the few economically (i.e., some get wealthy), while a vast majority of inhabitants suffer. Continuing with blind and blithe ignorance as we are now doing comes at a great cost—locally to our human health and wellness and globally to our planet.
Now is the time to consider the latter more important. Now is the time for real progress, the kind that benefits the many, the majority. I want to enjoy a city with less concrete, asphalt and steel, and one with more wild plants and flowers and with a greater abundance of natural beauty. Now is the time to conserve what we have before us, that is, before it is too late. The extinction of plants, as a result of human activity, remind us of what is at stake when they disappear.
For the complete article, go to [
Nature
].