The Natural World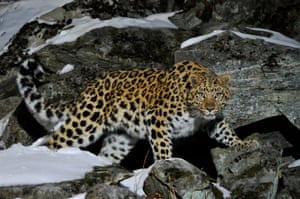 Endangered Species
: One of the signs of the
Anthropocene
Era is that humans dominate, which can be stressfully argued is the case today, and which has been so since at least the time when humans became mechanized and industrialized. What's good for humans is not so for other living species. The Amur leopards are one of many species that are facing extinction; they are found,
reports
the World Wildlife Fund (WWF), "in the border areas between the Russian Far East and north-east China." In an accompanying article,
The Guardian
writes
("World's wildlife being pushed to the edge—in pictures;" October 27, 2016): "As few as 70 critically endangered Amur leopards are left in the wild, due to habitat destruction and human-wildlife conflict." It further
adds
: "Global wildlife populations will decline by 67% by 2020 unless urgent action is taken to reduce human impact on species and ecosystems,
warns the biennial Living Planet Index report
from WWF and ZSL." This is less than five years away. One can argue that a loss of species—and of biodiversity—might not truly be so good for humans, after all. We also lose a sense of ourselves, of our common and universal humanity.
For more, go to
[
The Guardian
]
Photo Credit
: Vladimir Medvedev/Getty Images/Nature Picture Library
Source
:
The Guardian