Photo of the Day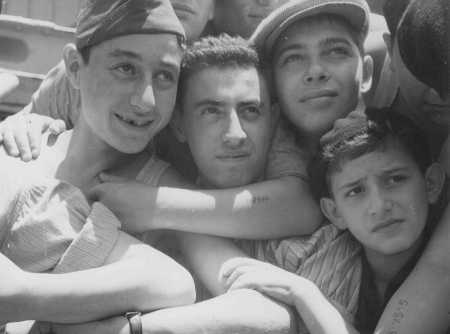 Survivor Youth
with concentration camp numbers tattooed on their arms aboard Aliyah Bet ("illegal" immigration) ship "Mataroa," at the Haifa port. They were denied entry and were deported to Cyprus detention camps. Palestine, July 15, 1945. Denied so much in their young lives, they nevertheless persevered. They were, after all is said and done, on a similar journey for freedom and to build a new life in a new land with historical and biblical significance to the Jewish People. Most of its passengers were children: a few hundred survivors of the Buchenwald Camp (one of them was Yizrael Lau, future Chief Rabbi of Israel), and children that were hidden in France and Switzerland. All together, 6,000 orphans were held in detention in Cyprus,
part of the 50,000 individuals
held in detention in Cyprus. The last prisoners, called detainees, were released by the British on February 11, 1949, nine months after Israel declared its independence in May 1948. Wikipedia
writes
: " Following Israeli independence, the British began deporting detainees to Israel at a rate of 1,500 per month. They amounted to 40% of all immigration to Israel during the
war
months of May–September 1948.
[4]
The British kept about 11,000 detainees, mainly men of military age, imprisoned throughout most of the war. On January 24, 1949, the British began sending these detainees to Israel, with the last of them departing for Israel on February 11, 1949." For more, go [
here
] and [
here
] and [
here
].
Courtesy
:
United States Holocaust Memorial Museum
& the American Jewish Joint Distribution Committee