Photo of the Day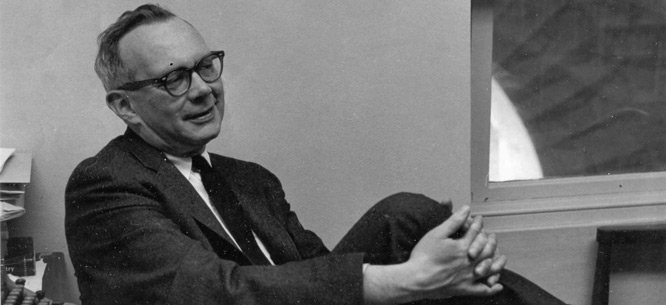 Irving Howe
[born as Irving Horenstein in 1920 in The Bronx, New York City–died in 1993 in Manhattan, New York City], in 1962, at Stanford University. He spent a good part of his academic life at City University of New York (CUNY), where he was a distinguished professor of literature. Starting out his adult years as a Marxist, he left it after the Second World War, after some soul-searching and concluding that its excesses in the Soviet Union were not in keeping with his humane values. He became a devoted democratic socialist, still seeing the excesses in capitalism, the same excesses (if not greater) which exist today. His most famous and widely read work is
World of Our Fathers
, published in 1976, which I read 20 years ago. Like many, I read the complete book with great interest and with great sympathy. Like many Jews, he returned later in life to his Yiddish roots,
notes
Joseph Dorman, in 2003, for
The New York Times
: "Moreover, in the Jewish shtetl portrayed by the Yiddish authors, Howe would find an ideal against which he could measure his dissatisfaction with capitalist America. Impoverished though Eastern European Jews had been, they had lived in a close-knit society, one where each felt a responsibility to his fellow Jew. That society—its politics, its institutions, its culture —reshaped and reincarnated in America, would become the subject of his 1976 masterwork, ''World of Our Fathers,'' a brilliant historical exploration of the socialist Jewish immigrant New York from which he himself had sprung." Howe founded
Dissent
in 1954 and was its editor until his death; the magazine continues publication under its current editor, Michael Kazin. For more, go [
here
] and [
here
] and [
here
] and [
here
] and [
here
].
Courtesy
:
Dissent
magazine